Equity First Realty® Listing Programs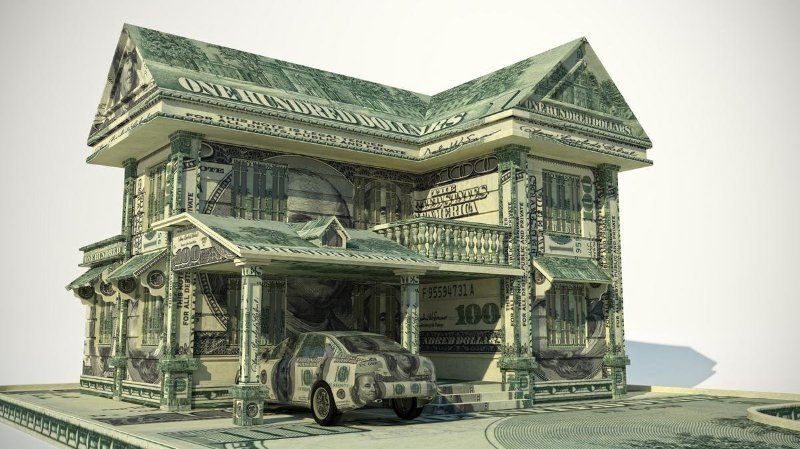 How Equity First Realty® Works! 
Equity First Realty® is a full-service real estate brokerage poised to give our buyers and sellers the best benefits ever heard of in our region! Our Equity First Realty® 2-on-2 Listing Program* provides our customers with professional representation and full service at a savings that sets us apart from our competitors. Our philosophy is simple: we allow customers to keep a larger portion of their equity in their current home when they sell and they get cash back when they purchase their next home with us. Use Equity First Realty® as your buyer's agent to buy or build your next home within 60 days after closing on your current home. You can pick any home listed on the Multiple Listing Service (MLS) or use the builder of your choice. At Equity First Realty®, we are all licensed and professional Realtors® and we will handle your transaction from start to finish. You can also save thousands of dollars when you use the Equity First Realty® 1.5% Full Service Listing Program. Why pay a 3% listing fee when you can pay just 1.5%? We appreciate your visit to our listing program section and thank you for taking the time to consider our company. We look forward to helping you with your real estate needs.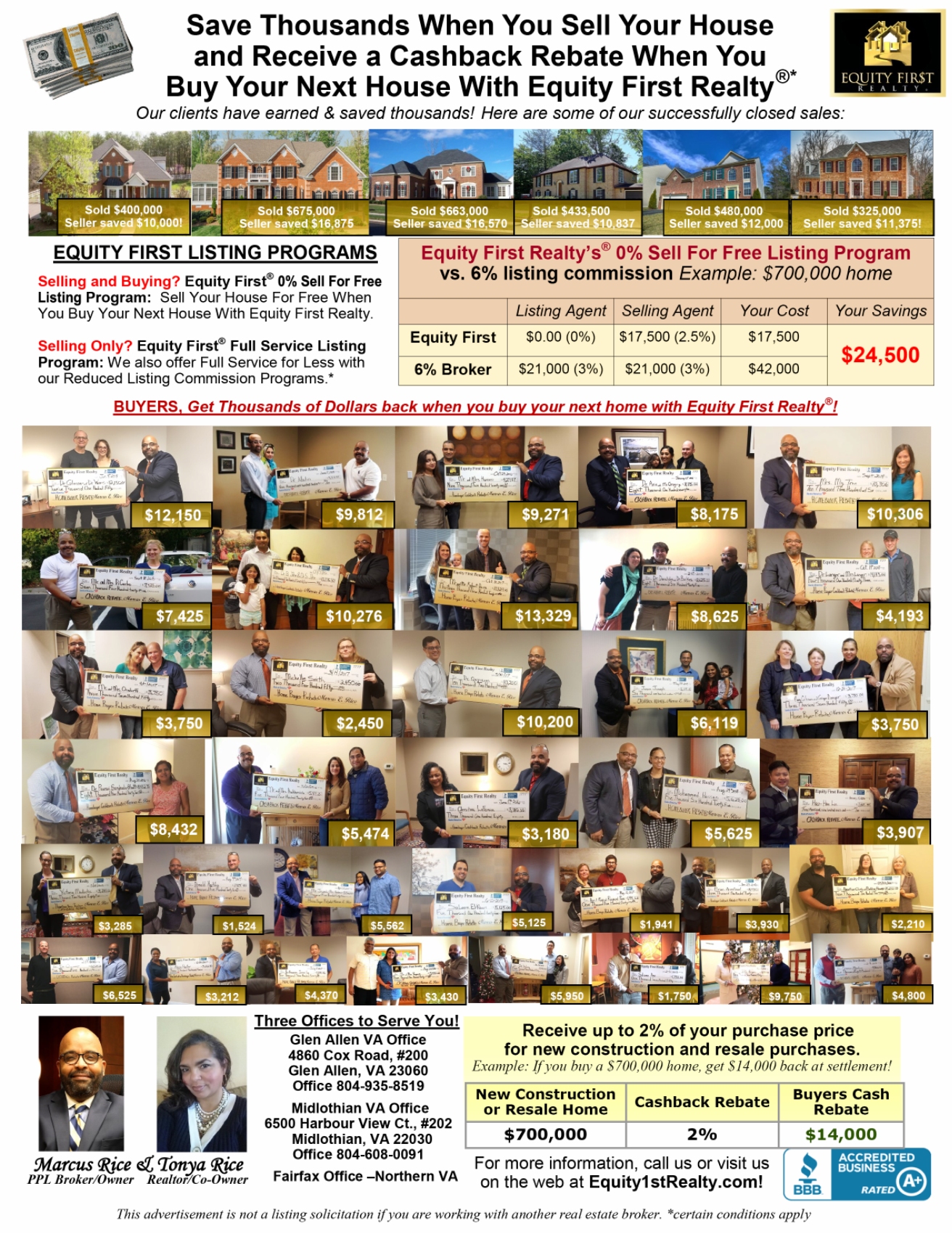 Selling and Buying? Well, don't pay 6% to list your home! List your home with us AND buy your next house with us to Save Thousands! With the Equity First Realty® 2-on-2 Listing Program, you can list your house for just 2% AND get an up to 2% Cash Back Rebate at closing, when you buy your next house with our team. That's right! Receive full service, representation, and cash when you sell your home and buy your next home with us at Equity First Realty®. Our goal to help you Save Your Equity!! Don't pay 6% to list your home! Wouldn't you like to have extra money for your vacation, retirement, investment portfolio or even new furniture for your new home? You can when you list your home with Equity First Realty® and buy your next home with us! Many homeowners think about selling their homes for new and different neighborhoods, but may change their minds due to extra costs associated with selling. We understand completely. But we don't believe that you should sacrifice your dreams for dollars. That's why we've built our company on the foundation of helping our customers save their equity for their own needs by lowering our commission fees and giving cash back when you buy! With our 2-on-2 Listing Program, your Equity First Realty® agent only takes 2% commission as long as we represent you on the purchase of your next home within sixty days after the closing of your current home. The most you pay is a 2.5% commission to the buyers agent that brings the buyer to your home.
Click here for more details: Equity First Realty®Plan A – 1-on-1 Listing Program
Not in the market for a new home after selling? No problem. Equity First Realty® will list your home for 1.5% listing commission due at closing. You'll receive full service:
Professional photography with 25 photos.
Supra lockbox for secure hassle-free agent showings.
HD 1080p Home Video Tour.
Sign delivered and installed.
Market evaluation and consultation with seller to set sales price.
ShowingTime showing service to schedule appointments directly with you when showing your home.
Feedback via email on showings, allowing you to better assess your home and make any necessary adjustments.
Make sure inspection, option period, financing and closing are accomplished during the time frame of contract.
Negotiate repairs by buyer after option period.
MLS exposure with photograph and detailed description of property.
Assisting with buyer/seller negotiations.
Intermediary handling of contract and funds with escrow agent (title company).
Assuring all terms of contract including time frames are complied with.
Follow up with buyers lender to ensure financing is in place.
Assisting with preparation of documentation relevant to the sale of the property.
Monitoring inspections, re-inspections, agreements between buyer and seller as to repairs needed and assurance of compliance with all agreements prior to closing.
Click here for more details: Equity First® Plan B – 1.5% Full Service Fee Listing Program .
Don't want to pay an upfront fee? No problem. Equity First Realty will list your home for 0% listing commission due at closing when you buy your next home with us after closing. That's right! Receive free full service and representation when you sell your home and buy your next home with us at Equity First Realty®. Our goal to help you Save Your Equity!! Don't pay 6% to list your home! Doesn't that sound like a great option to have when you sell your home? Wouldn't you like to have extra money from the sale of your home for your vacation, retirement, investment portfolio or even new furniture for your new home? This can be done when you list your home with Equity First Realty® and buy your next home with us! Many homeowners think about selling their homes for new and different neighborhoods, but may change their minds due to extra costs associated with selling. We understand completely. But we don't believe that you should sacrifice your dreams for dollars. That's why we've built our company on the foundation of helping our customers save their equity for their own needs – by foregoing our listing commission fee! At Equity First Realty®, our agents do not charge a listing commission when you sell your current home. The most you pay is a 2.5% commission to the buyer's agent that brings the buyer to your home. Your Equity First Realty® agent takes no commission as long as we represent you on the purchase of your next home within sixty days after the closing of your current home. Please click here for more details. Equity First® Plan A – 0